The best protection against ticks is awareness.
Each species of tick have different behaviors and risks.
Use our tick identification card to identify the life-stage of the ticks you find near your home. By determining the species and life-stage, we learn whether the tick has the potential to transmit tick-borne illnesses and its seasonal behavior.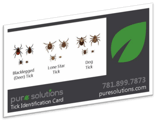 The tick idenficiation card identifies:
Dog Ticks
Deer Ticks
Lone Star Ticks